SIZING GUIDE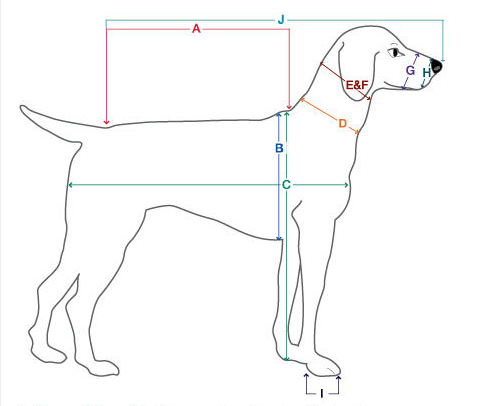 A. Apparel Length: Measure length of pet's back from the base of the neck to the base of the tail. Note: If dog has a stout build, select one size larger.
B. Harness: Measure girth around the broadest part of the chest and add 2".
C. Crates: Measures dog's height to the shoulders, and length from chest to rear of leg, then add 4"―6" to each measurement.
D. Collars, Buckle or Clasp: Measure the circumference of pet's neck and add 2".
E. Collars, Pong: Measures around the dog's neck and add 1"―2". Prong collars should fit snug and high on dog's neck. Links can be added or removed to adjust fit.
F. Collar, Choke Chain: Measure the circumference of pet's neck and add 2"-3".
G. Muzzles, Basket Style: Measure the circumference midway between tip of nose and eyes. Add 1" for small/medium breeds and 2" for large breeds. Includes closed fabric muzzles (ZX2015).
H. Muzzles, Open-Ended Fabric: Measure the circumference of the dog's muzzle just behind the tip of the nose.
I. Boots: With dog standing, measure from the front end of the small pads to the back edge of the large pads (do not include the nails).
J. Beds: When dog is laying down, measure pet's body length from the base of tail to tip of nose, and add a minimum of 9"-12". For bolster―or cuddler―style beds, add a minimum of 4"―6".
Recommended Sizing By Breed
Teacup ― Dogs Under 5 lbs.
XX―Small ― Toy Poodle, Pomeranian
X―Small ― Chihuahua, Yorkshire Terrier
Small ― Jack Russel Terrier, French Bulldog
Small/Medium ― Pug, West Highland Terrier
Medium ― Beagle, Boston Terrier
Large ― Boxer, Labrador Retriever
X―Large ― Golden retriever, German Shepperd
XX―Large ― Mastiff, Great Dane