Dear Valued Frank Rowe and Son local store customers,
After 10 years at our Middletown, PA facility, we have decided that we will be moving. We are honored to have kept the Frank Rowe and Son business going when Debbie and Dan Rowe retired. Unfortunately, the old post office building has not been a viable location as we strive to evolve with the fast changing pet grooming industry.
Our Middletown, PA store is no longer open for walk in business, we apologize for any inconvenience. You will find all the same products, and many more, that we had in our store online.
Frank Rowe & Son will continue to grow utilizing Boss Pet distribution centers across the country and will continue to carry great grooming products with terrific pricing from our website www.frankroweandson.com and tradeshows, including Groom Expo in Hershey, PA.
Judy Knull will continue to manage the Frank Rowe and Son business and can be reached at judy@frankroweandson.com.

Sharpening and Repair services will have a new local address to be announced shortly. You can still drop off and pick up at our store location now through April 28th, 2023.
Jason Gertler will continue to run the Frank Row & Son sharpening business and can be reached at jgertler@frankroweandson.com.
Store Address:
26 South Union St.
Middletown, PA 17057

Phone:
(717) 616-8646
Thank you for your business and we hope you will let us continue to serve you and your business!
Chris Miller
President Boss Pet Products
Frank Rowe and Son was founded by Frank Rowe and his son, Dan. Initially, Frank and Dan provided sharpening and repairs only for local groomers. As the company grew, many product lines were added. Since that time, the business has grown from a small, local sharpening and repair shop to an internationally known source of quality products and services for the pet industry.
We have attained the status of authorized service/warranty center for many clippers and other products. We still focus on customer service and treat each customer as we would like to be treated. Frank Rowe and Son continues to feature top quality sharpening and repairs, along with offering innovative supplies to pet professionals at industry trade shows and through our new and improved website.
In May 2009, after retiring from the Air Force, Dan and Debbie joined the business full time. Frank retired in 2011. Often, you will find the third and fourth generations helping at the office and at trade shows.

Frank Rowe and Son Inc. is founded on the concepts of honesty, integrity, loyalty, and trust.

Our employees work as a team of competent individuals.

Frank Rowe and Son Inc. is committed to exemplary Customer Service.

Our customers deserve to expect support and find answers to their grooming supply and service questions.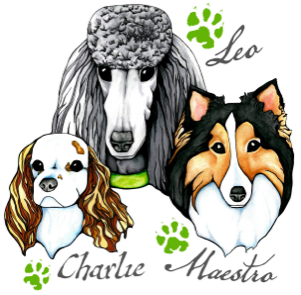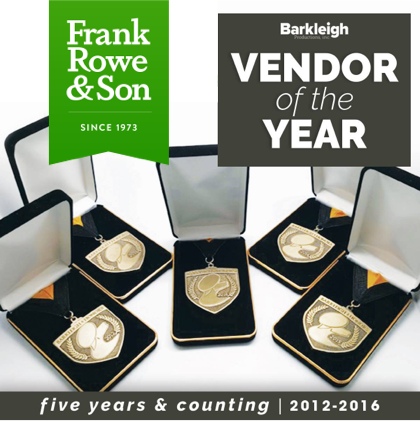 We're proud to bring the best in service and selection to the grooming community.
Whether you're shopping online, visiting us at our Showroom in Middletown, PA, or stopping by one of our trade show booths for a product demo or to browse the latest and greatest in groomer gear, Frank Rowe & Son is committed to providing outstanding service to the grooming community.
We are honored to receive the Barkleigh Productions Vendor of the Year Award five times. We are committed to bringing you award-winning service for the years to come.
---
---
---

Extensive Industry Experience
With 45+ years of experience in this industry, our staff has extensive knowledge of professional pet supplies. Our company is one of the best providers of retail pet grooming supplies in the country. We have satisfied clients across the Continental U.S. and abroad.

Authorized Sharpening & Repairs
We're authorized by top brands to offer excellent repair, maintenance, and sharpening services. We are experts in blade sharpening and clipper repair to keep your tools in top-working condition for extended periods of time––saving you the cost of frequently replacing them.

Superior Customer Support
Whether you call, contact us online, or come into our store, we'll guide you toward the best products to suit your needs. If you have a problem with any product you've purchased from us, give us a call and we'll do our best to get it solved promptly.

Free Shipping
We offer free shipping for most orders over $99. Enjoy flat rate on shipping for orders less than this amount. In addition to our Retail & Servicing Center in Middletown, PA you can shop with confidence online with a secure ordering system that is fast and easy to use.
What You Can Expect from Us
When you choose Frank Rowe & Son, you can
count on exceptional quality and service.
---