Sensei Shears

---
---
Introducing Master Grooming PrestigeTM Shears by Sensei®
Hand crafted by the most highly skilled and experienced craftpersons. Master Grooming Prestige Shears offer the quality and craftsmanship of Sensei shears at an amazing price.
Any pet grooming professional will tell you that a good pair of shears is worth everything when it comes to giving a precise and professional cut. Sensei shears offer some of the highest quality cuts to be had, with their triple-tempered Japanese stainless steel construction. The cryogenic tempering means these shears are impossibly strong and can go far longer than the average blade before needing to be sharpened. Ergonomically, nothing else can compare, as the Zero Gravity Tension System uses counter acting springs to create an effortless cutting motion. Offered in straight, curved and thinning styles, these shears will be the only ones you need for a very long time.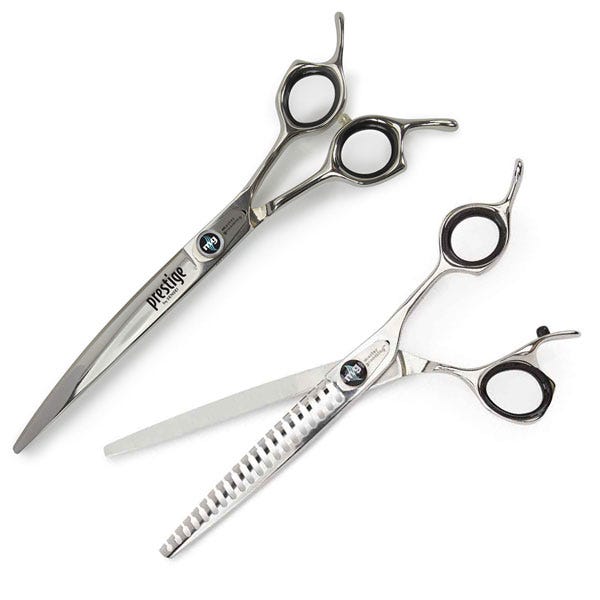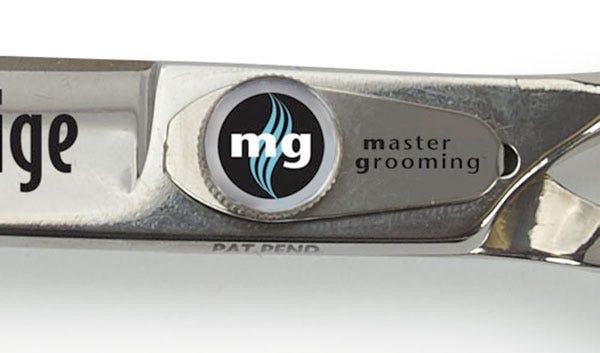 Superior ergnonomics make the Master Grooming PrestigeTM Shears by Sensei® a delight to hold allowing you to groom faster and more efficiently with less fatique. Made with Duralite 440c Japansese Stainless Steal which is triple-tempered, including -300 degrees Cryogenic tempering. This improves the durability by 40% nearly doubling the life of the edge! State of the art convex blade design is sharper and smoother cutting. Blades last longer because they start out sharper. Zero Gravity Tension System suspends the moving blade between two counter acting springs, to achieve a truly weightless cutting feel, also boosting performance over a wider range of tension adjustments.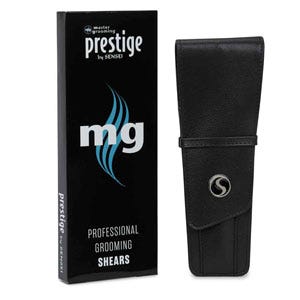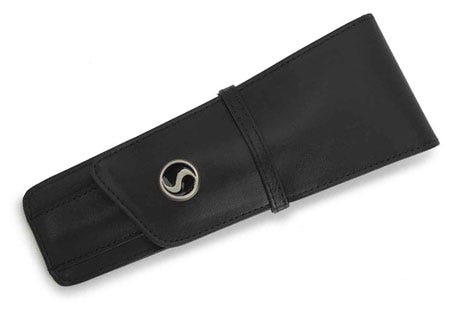 Each Master Grooming Prestige by Sensei Professional Grooming Shear is beautiflly packaged and each includes a beautiful, heavy-duty, high-quality case to protect your important investment.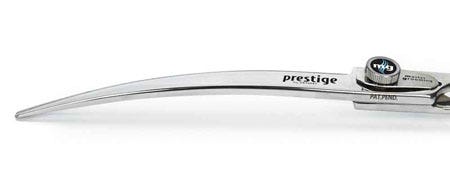 Featuring:
CONVEX BLADES
This state of the art blade design is sharper and smoother cutting. Convex blades last longer because they start out sharper so it takes longer for them to dull.
DURALITE™ STAINLESS STEEL
This custom formulation of 440c Japanese Steel is triple tempered including -300° Cryogenic tempering. This improves the durability by 40% or in other words, nearly doubles the life of the edge!
REVERSIBLE LEAF SPRING TENSION SYSTEM
The leaf spring system spreads the pressure out lengthwise to stabilize the blades and make them wear more evenly.
Only Sensei tension systems are reversible for lefties who use right handed shears!
Learn more about the Patent-Pending Zero Gravity Tension System
Learn more about the Triple-Tempered Cryogenic Tempering