Clipper Repair Service
Frank Rowe & Son is an authorized distributor and service center for Andis, Artero, Lister, Oster, and Wahl. Periodic maintenance keeps your clippers in top working condition. This maximizes the lifespan of the clipper and ensures efficiency while grooming.
We can fulfill all of your clipper part needs with our extensive list of brands and models offered. From the blades to internal circuit boards and new batteries, Frank Rowe & Son has everything you need to provide high-quality grooming services. Our goal is to have your clippers trimming properly again with our prompt service and affordable prices.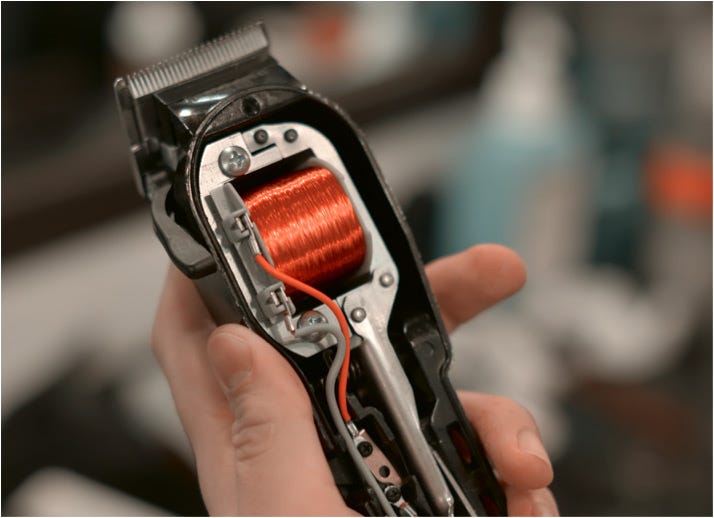 ---
Clipper Repair Costs

Repairs over $50 for small clippers or $75 for large animal clippers require authorization.
Andis, Artero, Oster, & Wahl animal clippers




$20.00*

+ parts
Large animal clippers - Andis, Lister, Oster, Stewart, & Sunbeam


(horse, cow, sheep, etc.)

$25.00*

+ parts
*Rush prices may apply on some orders.

We accept payment by credit card. For established customers with approved credit, we will also accept checks made payable to Frank Rowe and Son Inc.
If you mail a check in with your order, be sure to allow for any parts needed and return shipping costs. We will mail any change due back to you with your blades and scissors.
---
Frequently Asked Questions
Frank Rowe & Son offers the highest level of quality service. Clippers will be fully disassembled and cleaned during service. All parts are checked and replaced if worn or broken. Frank Rowe & Son is an authorized service center for Artero, Oster, and Wahl clippers.
Include a note in your package that includes following info:
- Name (Contact name and company name)
- Phone Number
- Billing and Shipping Address
- Payment Info (if using credit card, include number, expiration date and 3 digit security code)
- List what you're sending us; include make and model of your items
- Tell us what you'd like done and if there are any particular issues with your equipment.
- Example: Andis # 7 blade is dragging and AGC Super 2 Speed is running hot!
Optional:
1. Request an estimate of repair work before we proceed with repair.
Without a call request, we will simply complete your repair, as long as it is reasonable. Any repair that is not cost effective will be called before repair is performed.
2. Request insurance on your return package if desired. Please state the amount of insurance desired.
NOTE: USPS, Fed Ex, and UPS replace missing items only if they are insured.
You might decide you would rather purchase a new clipper instead of investing more into your current clipper. Frank Rowe & Son will contact you for authorization to continue repairs if your clipper repair is expected to exceed $50 ($75 for large animal clippers). Repairs under this amount will automatically be repaired and charged accordingly.
No, Frank Rowe & Son will disassemble and evaluate your clipper at no charge. If you decide you do not want to proceed with repairs, Frank Rowe & Son will return or dispose of the clipper as directed by the customer. There will be a $5 reassembly fee if you want the clipper reassembled and returned.
No. Return shipping costs on all service and repair orders are calculated by location, size, and weight. The actual shipping amount will be charged.
Yes, Frank Rowe & Son offers a RUSH service for an additional fee.
All clippers should be inspected and serviced at least annually. Andis clippers recommend the blade drive assembly be replaced every 30-60 days.
Yes, many times you may be able to repair your clipper at home. Frank Rowe & Son offers replacement parts.
Cordless Clippers - Please send the battery and charging base along with the clipper. Corded Clippers do not need any additional items. Please let us know if you use a clipper vac system. Blades sent in with clippers will be sharpened unless otherwise directed.