Andis CeramicEdge Stainless Steel Blades
Andis® CeramicEdge Blades are made from a high-tech ceramic material that resists heat for cooler, more comfortable, cutting. For clippers that get a workout all day long, consider Andis® CeramicEdge® blades. Advanced formula ceramic cutter stays up to 75% cooler than steel and provides increased durability and a long-lasting edge.
Black Friday Deals For You
Related Products
Check items to add to the cart or

Save time and money with Andis® CeramicEdge™ Blades. The high-quality ceramic cutters on these dog clipper blades stay sharper longer and require less sharpening than standard steel blades.
Low heat transfer and friction index keeps blades running 50% cooler than steel
Ceramic blades use less coolant and clip faster with less downtime
Ceramic blades do not heat up, reducing the risk of friction burns
Steel combs have a Rockwell Hardness of 65
Size 4 Skip-Tooth blade has a 3/8" blade cut (9.5 mm). Use for short-legged terriers (westie, etc.) and poodles, and short puppy cuts on lhasas and similar breeds.

Compatible with Andis®, Conair®, Oster®, and Wahl® detachable-style clippers.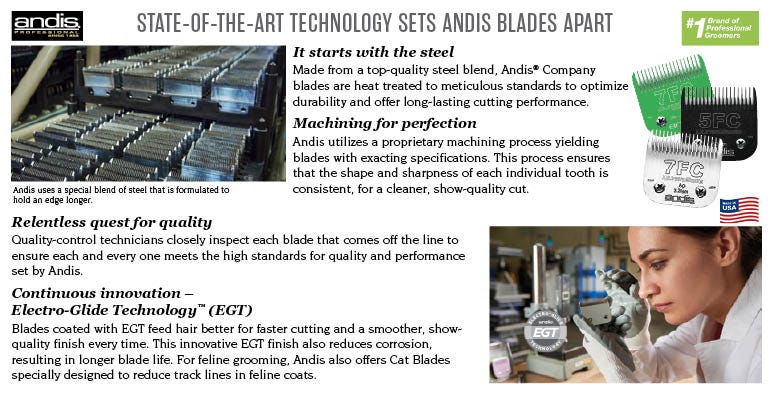 Material: Carbon-infused steel construction with matte finish plus a ceramic backing and edge
Cut: Size 4 Skip Tooth Blade has a 3/8" Blade Cut
Rockwell Hardness Rating: 65

Blades are available in the following styles:

Size 40 Blade has a 1/100" Blade Cut
Size 30 Blade has a 1/50" Blade Cut
Size 5/8 Toe Blade has a 1/32" Blade Cut
Size 15 Blade has a 3/64" Blade Cut
Size 10 Blade has a 1/16" Blade Cut
Size 7F Finish Blade has a 1/8" Blade Cut* Note: Made in Taiwan
Size 5F Finish Blade has a 1/4" Blade Cut
Size 4 Skip Tooth Blade has a 3/8" Blade Cut
Size 4 Finish Blade has a 3/8" Blade Cut
Size 5/8 HT Blade has a 5/8" Blade Cut
See how to remove and attach an A5-compatible clipper blade:
* Note: Andis now makes this blade in Taiwan, all others are made in USA
More Information

| | |
| --- | --- |
| Brand | Andis |
| Product Grouping | National |
| UOM | EA |
| ERP Status | Active |