Oster Volt Lithium Ion Clippers with #10 Blade
The Oster® Volt Lithium Ion Clipper features a lightweight, ergonomic design to reduce hand fatigue. The extra-long-lasting lithium ion battery provides heavy duty cordless power with extreme run times for the busy professional dog groomer. Compatible with all A5 blades.
This convenient cordless clipper is equipped with a high performance lithium ion battery that provides up to two hours of run time. The Oster® Volt Lithium Ion Clipper features:
A5 Blade compatible
Lithium ion battery providing consistent power
Faster charging cycles
Lightweight design for easy hold and maneuverability
Clearcoat protectant helps protect against dirt, smudges, and fingerprints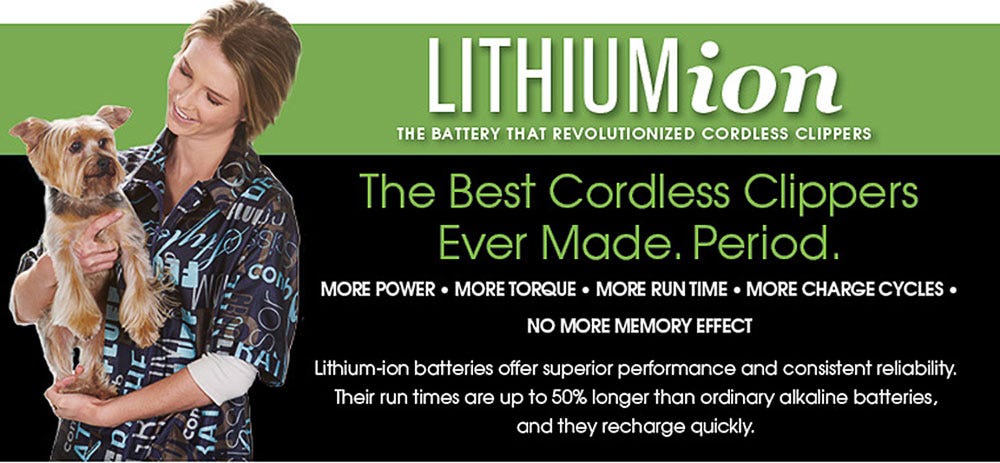 Lithium batteries produce twice the voltage of any ordinary Alkaline battery to maintain consistent power throughout usage. The clipper kit includes a clipper, #10 blade, charging stand, one battery, oil, and brush. Replacement battery is also available and sold separately.
Motor Type:
Magnetic Rotary Motor
Strokes Per Minute
: 2,400
Handpiece with Blade
:
       Weight – .95 lbs
       Length – 8"
Warranty
: 1 Year
This is an ORM-D (Other Regulated Materials-Domestic) product and can only be shipped within the contiguous United States via a ground carrier. It cannot be shipped via the United States Post Office, to a P.O. Box, via expedited shipping (any method that might involve air transport) or internationally. If you have any questions, please call 800-738-3343.