Master Equipment Superior Stainless Steel Walk-In Tub
This Master Equipment™ Superior Stainless Steel Walk-In Tub is ideal for grooming large dogs. The tub is only 9 inches off the floor, so dogs easily can step into it.
This Master Equipment™ Superior Stainless Steel Walk-In Tub's open front allows for convenient grooming of dogs of all sizes, and makes it especially easy to accommodate large dogs. Update your dog washing station!
Made with high-quality, fully welded, brushed stainless steel construction
The 14-gauge, 304-type stainless steel is strong, durable, long lasting, and rust resistant
Comes with two floor grates, two u-shaped grooming bars on the backsplash, three 7/8" plumbing holes on each side, and a pre-drilled drain hole
Available with both left and right plumbing options
Perfect for self-serve, do-it-yourself dog-washing operations
Limited 1 Year Warranty
This product meets or exceeds Professional Pet Groomers and Stylists Alliance (PPGSA) standards.
Please be sure to review your State or Municipal plumbing & electrical guidelines before purchasing.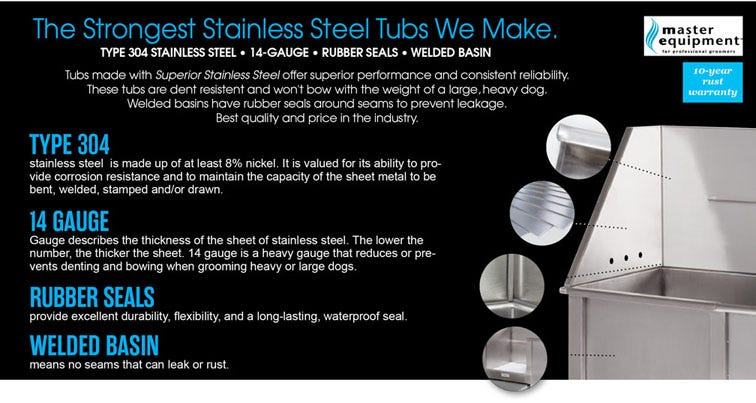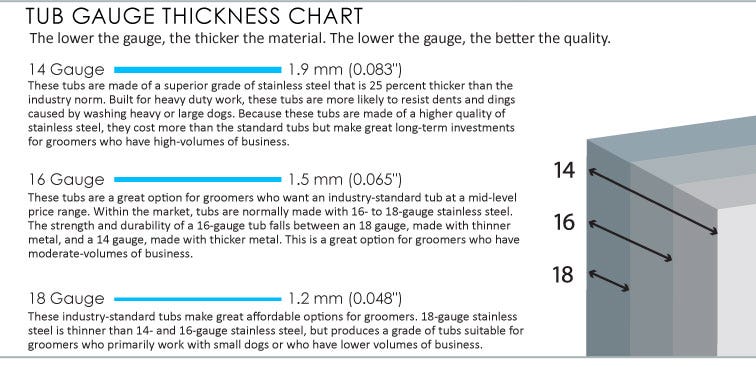 Materials: 14-gauge, 304-type stainless steel
Size: Measures 61-2/5"L x 27¼"W x 39⅜"H

Front Wall Height (Top to Bottom)
Inside, no Rack 39⅜"
Inside with Rack 36"

Tub Width (left to right facing tub)
Inside 59"
Outside 61-2/5"

Tub Depth (Front to Back)
Inside 26-1/10"
Outside 27¼"

Front Wall from Floor 9"
Side and Back Wall Height 31½"
Faucet Ports Center to Floor 30⅝"
Faucet Ports Center to Center from farthest outside rim of tub 4" from front; 6-3/10" from back. Faucet ports can accommodate 4" or 8" wall mount faucets.
Center of Drain is 14" from side wall

Care Instructions: Rinse thoroughly after bathing pet. Make sure tub is clean and dry after use. Clean with mild soap or a stainless-steel approved cleaner only. Do not use harsh or abrasive cleaners, or tools with metal or textured parts, as these can scratch or damage the tub.

Download Assembly Instructions (PDF File)
Download Specifications (PDF File)

Shipping Info: This item is not eligible for free or discounted shipping. This item qualifies for Free Shipping with the purchase of $2000 or more of select Master Equipment & ProSelect Equipment.


More Information

| | |
| --- | --- |
| Brand | Master Equipment |
| Product Grouping | Own Brand |
| UOM | EA |
| ERP Status | Discontinued |