Blade & Shear Sharpening Service
You can trust Frank Rowe & Son to provide high quality service and care for your equipment. Frank Rowe & Son sharpens and repairs thousands of blades and shears each year. We have trained technicians with many years of experience. We offer professional, factory trained services to get the best results with your equipment.

We specialize in Shears - straight, curved, thinners, chunkers, convex, beveled, corrugated, and left-handed; Blades - A5 style, large animal, Wahl 5 in 1, Artero 4 in 1, and ceramic. We also offer sharpening on nail clippers, excluding guillotine style.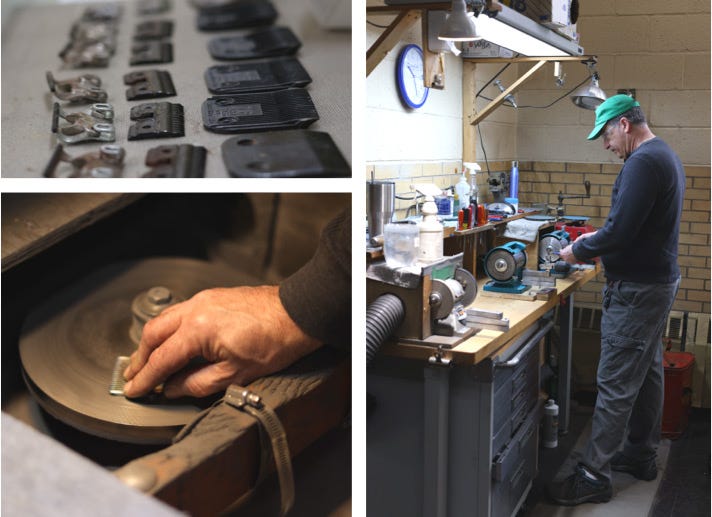 ---
Sharpening Costs

How much will it cost to sharpen your tools? Here's our current pricing.
Clipper Blades




A5 Style Standard Style

$7.00*

+ parts
Blades Wide




A5 Style Wide Blades, T-84, T-10, & Large Animal

$9.00*

+ parts
Adjustable Blades




Artero (4in1) / Wahl (5in1) Refurbished

$11.00*

+ parts included
Shears/Scissors & Thinners

Any style

$12.00*

+ parts

*Rush prices may apply on some orders.
| | |
| --- | --- |
| 10Blades | |
| Standard | $8.00 |
| Wide Blades and Large Animal | $9.00 |
| Adjustable | $12.50 |
| | |
| --- | --- |
| Shears and Scissors | |
| BASIC/ Beveled Sharpening- (Any style, size, curved or straight. Most Common for German Steel) | $10.00 |
| JAPANESE/ Convex Sharpening- (High Quality Japanese style shear sharpening / for Japanese Precision Shears/ Any style, size, curved or straight) | $20.00 |
| Serrated | Included if present on scissor. |
| | |
| --- | --- |
| Nail Trimmers | |
| Any Style | $7.00 |
Maintenance and Repair Services

Clippers

Small

$25.00 + Parts

Large

$30.00 + Parts

Dryers

Single Motor

$30.00 + Parts

Double Motor

$50.00 + Parts

$10 Diagnostic Fee on Clippers and Dryers




(Waived if repair is done)

$10.00 ea

We accept payment by credit card. For established customers with approved credit, we will also accept checks made payable to Definitely Sharp
If you mail a check in with your order, be sure to allow for any parts needed and return shipping costs. We will mail any change due back to you with your blades and scissors.
---
Frequently Asked Questions
• Wrap each blade/shear individually. We've found wrapping them in newspaper, paper towels or plastic shopping bags is a sturdy and light-weight alternative to purchasing bubble wrap.

• If there is empty space in the box, stuff it with paper, plastic shopping bags, etc.

• Don't ship your blades/scissors in a simple letter envelope. They will break through the envelope and get lost in the Post Office system for a week or two. (Trust us on this one.)

• Stop by the Post Office to pick up a FREE mailing box. Add postage and insurance if desired. Bubble-mailers are another great shipper. These envelopes are sturdier and have bubble wrap inside for additional protection. Whichever one you chose, be sure to seal off the weak spots with tape!
Include a note in your package that includes following info:

• Name (Contact name and company name)

• Phone Number

• Billing and Shipping Address

• Payment Info (if using credit card, include number, expiration date and 3 digit security code)

• List what you're sending us (ex. 3 Arco blades, 2 scissors, 1 AGC Super 2 Speed)
Sharpening and repair orders are typically completed within 4 weeks after being received; however, it may take longer, depending on the availability of parts and the volume of service requests.
Due to the high volume of sharpening and repair orders, sharpening and repair orders are currently taking 2-4 weeks after being received; however, it may take longer, depending on the availability of parts. Please call 800 738 3343 with questions about your sharpening or repair order status.
Yes, we have over 45 years experience. We sharpen A5 Style Detachable Blades, Large Animal Blades (excluding Sheep Blades), Wahl Adjustable Blades, and Artero Adjustable Blades.